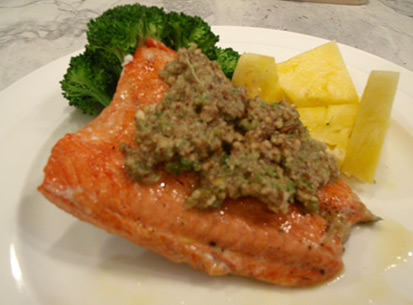 Salmon w/Pecan Pesto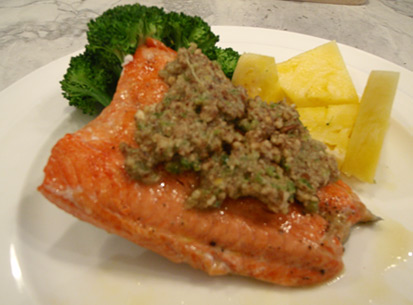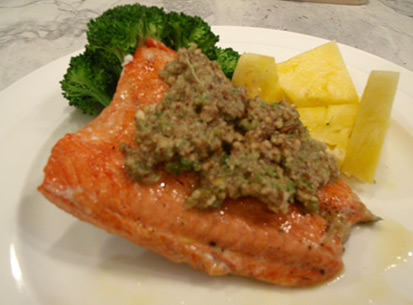 This is nom nom nom! Eat it with someone you love!
SERVES: 4
5 oz shelled pecans

1 3-inch sprig of rosemary

4 salmon fillets (1 1/2 lb total)

3 oz cold butter, cut into 1 1/2 tbsp pats

2 fresh jalapeno peppers, seeded and coarsely chopped

zest of 1 small lemon (or small orange), finely chopped

1 tbsp olive oil

salt and freshly ground black pepper to taste
Preheat oven to 300F.

Toast pecans on a cookie sheet about 20 minutes, or until they release their aroma.

Set aside to cool.

Strip rosemary leaves from stems, mince, and set aside.

Rinse salmon and pat dry.

Butterfly fillets with a sharp knife, if desired.

Rub salmon with olive oil; season with salt and pepper.

Heat heavy skillet over medium heat.

Panfry fillets until firm to the touch.

Place the toasted pecans, rosemary, butter, jalapenos, and lemon zest in a food processor.

Process for 5 seconds, scrape the bowl, and repeat two or three times until a paste (pesto) forms. Do not overprocess.

Spread the pesto over the cooked salmon, and serve immediately.