Steak and Watermelon Salad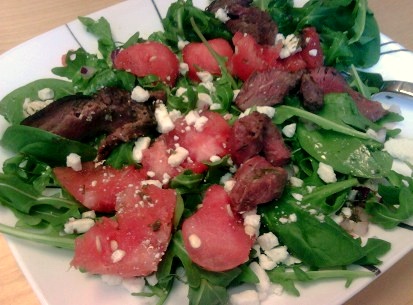 Ready in 15 minutes. Makes 4 Servings.
Ingredients:
4 cups arugula
1 lb watermelon, chopped
1/2 red onion, sliced
4 oz feta cheese
1 lb of grilled steak
1/4 cup red wine vinegar
1/4 cup olive oil
1/4 cup lemon juice
1 garlic clove, crushed
1 tsp dried parsley
Directions:
Combine arugula, watermelon, onion, cheese and beef in a large bowl. Set aside.
In a small bowl, whisk liquid ingredients, garlic, parsley, until blended to make dressing.
Generously pour dressing over salad and toss to coat. Serve chilled.